To Kill A Mockingbird Essay Contest 2014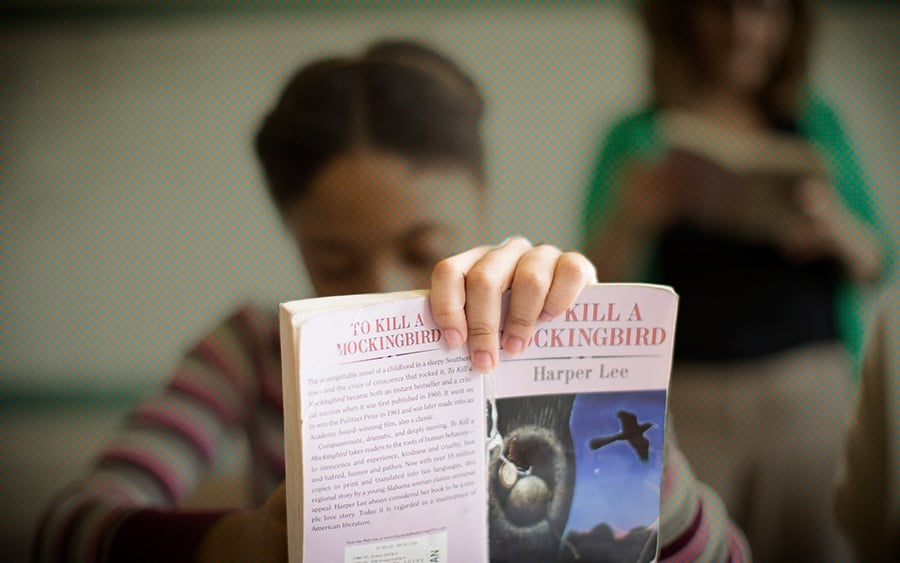 Harper Lee's death reminds us that "To Kill a Mockingbird" is not only a classic work of American literature, but has also opened important conversations around the themes of race, justice, and morality. The day before Lee passed away, we published the following essay by writer Margaret Stohl, co-author of the bestselling young adult novel, "Beautiful Creatures," on why "To Kill a Mockingbird" mattered so deeply to her. Our Teaching Mockingbird curriculum helps educators bring the historical context behind the novel into their classrooms.
I have a problematic relationship with conformity. Though I was born in Los Angeles, two generations of my family came from a small town in rural Southern Utah, and they carried the seeds of that community with them to California long after they left the town itself behind. As I grew up, I noticed that my family was nothing like our neighbors or my friends at school. We had different views, different beliefs, and different approaches to life. At the same time, the longer I lived in California, the less I fit in with my own family. That's probably why, when I read Harper Lee's To Kill A Mockingbird as a teenager, I felt an immediate connection to the novel's main character, Scout Finch.
Read More
Topics: Insider, To Kill a Mockingbird, Contests, Student Voices, Writing, Identity, Harper Lee, Margaret Stohl
Ms. Lee said she was struck by the perspective young people bring to the book. "They always see new things in it," she added. "And the way they relate it to their lives now is really quite incredible."
The students write with longing for the kind of unmanaged childhood experienced by Jem and Scout Finch in the rural 1930's Alabama of Ms. Lee's rendering. Some tell of the racial tensions they witness in their school cafeterias, others of the regional prejudices they experience at the hands of Northern peers who assume anyone from Alabama must drive a pickup truck or live in a mobile home. In an essay a few years ago one girl likened the trial of the book's Tom Robinson, a black man unjustly accused of raping a white girl, to the 1999 murder of Billy Jack Gaither, a young man living in Sylacauga, killed because he was gay.
The recipient of the Pulitzer Prize in 1961, "To Kill a Mockingbird" remains the only book Ms. Lee has written. It is difficult to overestimate the sustained power of the novel or the reverence with which Ms. Lee is treated here: it is not uncommon to find live staged versions of the story, hear of someone who has devoted his life to playing Atticus Finch in road shows, or meet children named Scout or ones named after the author herself.
At a book signing after the ceremony on Friday afternoon, a little girl in a velvet dress approached Ms. Lee with a hardback copy of "To Kill a Mockingbird," announcing that her name was Harper. "Well, that's my name, too," Ms. Lee said. The girl's mother, LaDonnah Roberts, said she had decided to make her daughter Ms. Lee's namesake after her mother-in-law gave her a copy of the book during her pregnancy. Another girl, Catherine Briscoe, 15, one of the essay contest winners, had read the novel six times. She trembled and held her hand to her heart as she spoke of its author: "It was breathtaking to meet the most important person in my life."
Sometimes Ms. Lee will encounter someone who will claim to know exactly where Boo Radley lived. "I had a girl come up to me here," Ms. Lee recalled, referring to an awards ceremony a few years ago, "and she said, 'Boo Radley lives across the street from my grandparents.' "
"Well, I didn't know what to say to that," she said, laughing.
Ms. Lee lives with her 94-year-old sister, Alice, a lawyer who still practices, and keeps an apartment in New York. She is not a judge in the essay contest, nor does she make any formal statement at the ceremony. Her one stipulation for the contest was that children who were home-schooled be eligible to compete.
The story of Ms. Lee's involvement with the contest begins five years ago with her induction to the Alabama Academy of Honor, a society that pays homage to influential people born or living in the state. In 2001, as the academy was casting about to include more women, Mr. Carruthers, chairman of the academy, called Ms. Randall to see whom the group might have overlooked, he said. When Mr. Carruthers went back to the committee and recommended that they approach Ms. Lee, the other members decreed that he could try but that surely, because of her outsized reputation for shyness, she would have no part of such a group.
Mr. Carruthers was not deterred. "I had a vested interest in this whole thing," he joked, "because I wanted to prove them all wrong."
He approached Ms. Lee about the possibility of a nomination. "I couldn't promise that she would win," he said. To everyone's surprise, Ms. Lee accepted the nomination. She was elected to the academy in 2001, one year after Rosa Parks and one year before Condoleezza Rice. Fearing that too much pomp and fuss might scare her off, Mr. Carruthers asked academy members not to bring fawning grandchildren to the induction ceremony. Many brought them anyway, with books to sign, all of which Ms. Lee cheerfully autographed. Mr. Carruthers and Ms. Randall devised the essay contest to commemorate her entry into the academy.
Ms. Lee is quick-witted and gregarious. At the ceremony she greeted a server at the mansion whom she remembered from luncheons past. "I went back to my friends and I told everyone that I'd met you," the young woman said. "Nobody believed me. I said, 'Oh, yeah, I did, and she is the nicest, sweetest lady." Ms. Lee looked at her with amused suspicion and started to laugh.
During lunch she reminisced about her old friend Horton Foote, who wrote the screenplay for the acclaimed 1962 film of "To Kill a Mockingbird," starring Gregory Peck. Ms. Lee spent three weeks on the set, she said, and took off when she realized everything would be fine without her.
"I think it is one of the best translations of a book to film ever made," she said. Ms. Lee attended Peck's memorial service in California three years ago. About her friend Mr. Foote, who is 89, she said, "He's become quite amazing looking in old age, like God, but clean-shaven."
When Mr. Carruthers approached and asked why he hadn't received a letter from her in so long — the two have become good friends — she answered that she would get to him "once I finish off all the letters I have to write." Since the release of "Capote," much of her time has been spent writing demurrals to reporters seeking interviews about her life. Someone suggested she come up with a form-letter response to such requests.
What it would say, she joked, "is hell, no."
Continue reading the main story