E7 Navy Bibliography Advancement
To access BIBs on COOL:
Advancement Bibliographies (BIBs) are lists of occupational and professional military knowledge references developed to help guide Sailors in their studies for advancement exams. You can access BIBs on COOL in the following ways:
On any page, click "Find" on the side of the page, go to the Enlisted Search tab (open by default), then click on the Advancement Exam Bibliographies button. You can then search on and select a specific Advancement Exam Bibliography document. To view the selected Bibliography document, click Go.
The last section on every Rating Summary page is the Advancement Exam Bibliography section.
An easy way to get to the Advancement Exam Bibliography section on a Rating Summary page is to use the page navigation bar. The bar "sticks" to the top of the window as you scroll, so is always in view.
To learn more about the BIBs, see the Bibliography FAQs PDF.
BIBs are normally posted six months before exam administration dates. The Navy Advancement Center must change bibliography information as references are updated and Fleet instructions change. If you are an advancement candidate, it is critical that you check the bibliography a few times prior to the exam administration date to see if there are any changes. Navy COOL maintains the most current BIB version.
Can't get the Bib's on the Navy Advancement Website? BIB's for CPO, and E-6 and Below are all UPDATED here!!
So you want to log in and get your Bib's off the Navy Advancement website..
You try to log in.. First.. "WHAT's MY DAMN USER NAME???"
OMFG!! What the heck was my 14 Digit PW? I know I wrote it all down here somewhere?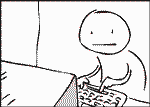 Logging into a Navy Website from home..
What I had to change it after 90 days?  OMG!!
I'm playing the XBox 360 instead, Call of Duty has my name..
Or…
You can just enter " http://corpsman.com " and simply click the "Hospitalcorpsman.org" link on our site and get the bib's "No Fuss"…
No Passwords, Always there when you need it.
That's our motto at Corpsman.com.  We want to be the one stop shop for your needs for advancement. Thanks to Indy the bibs were updated last evening.  Heck he told us on our Podcast last night that it would be the weekend before they were put up, and that was what we relayed in the broadcast, when "SURPRISE!" There they were, all done on a night before Friday Duty as well.  (I'm hoping the ADMIRAL at his house harbors no ill-will towards us..  🙂  )
So you now have no reason not to study for the advancement exams in Jan, Feb, or in March.  We still have to get the E-6 and below Reserve Bib's up but they should be done fairly soon.
If you like what we do supporting the Doc's and their families, how about dropping a donation in to help us keep up this type of service.  If you would like to donate, please click the graphic below..
Tweet